Wagoneer Service Center Akron OH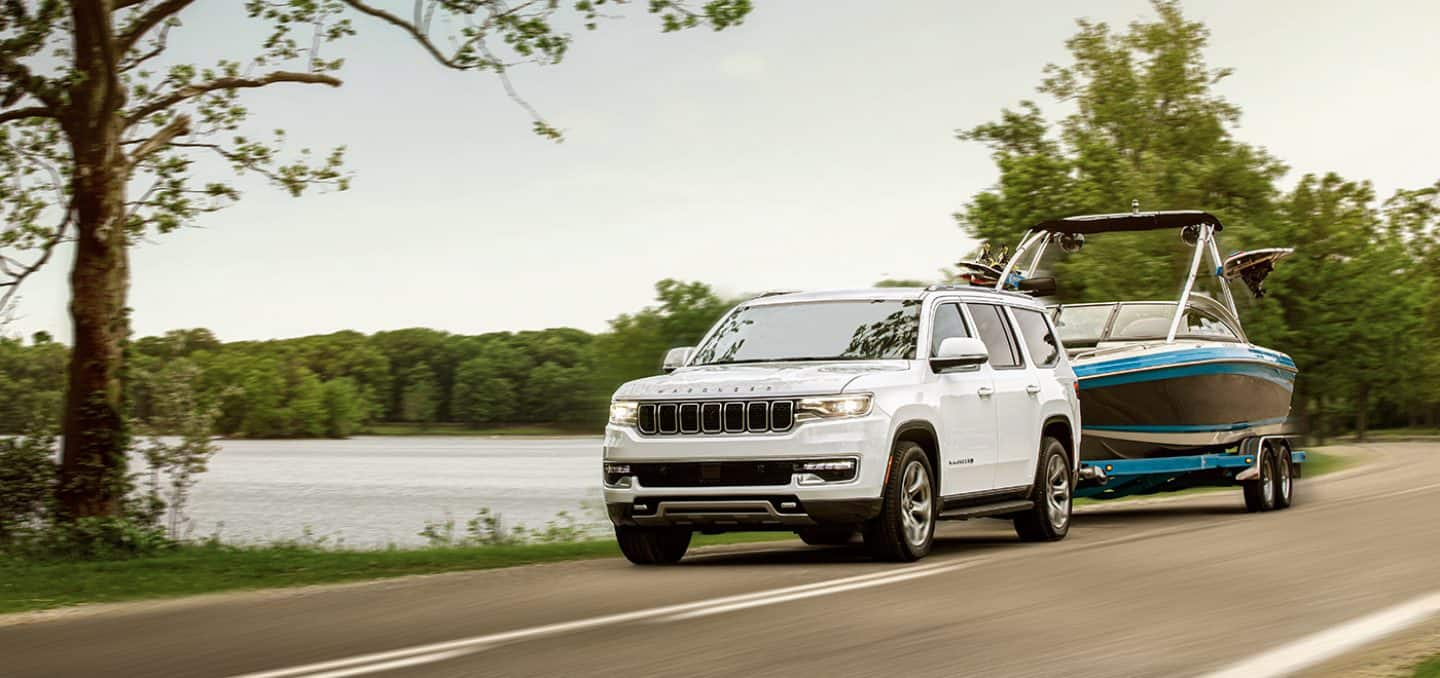 Wagoneer Service Center Akron OH
Make Your Appointment at Fred Martin Superstore!
The 2022 Wagoneer is a stunning addition to the three-row SUV segment. This premium vehicle offers three rows of seats with space for up to eight passengers, and tons of luxurious features both inside and out! The exterior features LED headlights, and wheels measuring up to 20 inches. Inside, the Wagoneer comes with Nappa leather interior, and both of the two trim levels come with the all-new Uconnect 5 infotainment system with a 10.1-inch touchscreen. Plus, 4-wheel drive is available across the board, and when properly equipped, the Wagoneer can tow up to 10,000 pounds! As you can see, this SUV provides the best of both worlds in terms of style and strength. To keep your Wagoneer working its best for years to come, it's important to make sure they get all their necessary maintenance and repairs! Getting your SUV serviced on a regular basis will keep it in great condition so that you can continue to enjoy it for years to come! Read on to learn more about the Wagoneer services we offer here at Fred Martin Superstore!
Routine Maintenance for Your Wagoneer
One of the best ways to care for your vehicle is with routine maintenance appointments. Even though your vehicle might not be having any issues, it's still important to get routine services taken care of so that your SUV continues to work well. Some of these services include oil changes, tire rotations, wheel alignments, brake pad replacements, and even state inspections! First of all, these services give your Wagoneer a refresher, so that they're not accumulating unnecessary wear. For example, fresh oil keeps your Wagoneer's engine working efficiently, while a tire rotation helps the tires accumulate wear evenly rather than wearing out one of them disproportionately. Another benefit of routine maintenance is that it gives mechanics the opportunity to spot potential problems before they arise, so that you can catch them early and avoid more costly repairs!
Find Wagoneer Parts and Accessories
Although the Wagoneer comes exceptionally well-equipped, there are always ways to improve and customize your vehicle! You can browse through hundreds of Mopar parts and accessories right here on our website, and even order them to our dealership here at Fred Martin Superstore! You can find accessories like rear cargo organizers, all-weather floor mats, and rooftop cargo racks. There are also replacement parts like spark plugs, oil and air filters, and brand new tires to keep your Wagoneer running its best! While you're browsing through the available parts and accessories on our website, be sure to check out parts and service specials so that we can help you get a great deal on any of the services you may need! If you're having trouble deciding which parts and accessories might be best for your Wagoneer, our expert mechanics will be happy to help! And of course, they'll also make sure that all of your desired parts and accessories are properly installed and ready to go!
Get a Great Deal with Wagoneer Client Services
As the owner of a Wagoner or Grand Wagoneer SUV, you may be eligible for exclusive member benefits as part of the Wagoneer Client Services program! This program is a customer care membership that affords Wagoneer drivers with a wide range of special benefits. For example, Wagoneer Clients will have access to 24/7 customer support either online or by phone, courtesy of a specially-trained Wagoneer ambassador. When it comes to service, the Wagoneer is eligible for coverage for maintenance like oil changes and tire rotations so that you can easily keep your SUV in great shape! These services can be redeemed at a certified service center, like we have here at Fred Martin Superstore! To see if you qualify for Wagoneer Client Services, or to learn how to sign up, you can call our team here at Fred Martin Superstore. We can walk you through your options to bring you the best deal we can!
Find New Wagoneer Inventory at Fred Martin
Now that you know all the ways in which you can care for your Wagoneer, you may be interested in purchasing a new Wagoneer or Grand Wagoneer of your very own! If this is the case, look no further! Fred Martin Superstore in Norton, Ohio has a wide array of new vehicles, including the 2022 Wagoneer, that residents all across the Akron area can peruse. You can check out new Wagoneer inventory right here on our website, or by visiting us in person at our showroom. Here, you can see our selection of new vehicles in person, and take the 2022 Wagoneer for a test drive! Plus, you'll be able to see which trim level of the Wagoneer is best for you, and discuss all of your options one-on-one with a member of our sales staff. We'll even value your trade-in so that you can use its value towards your next purchase. Shop online or come visit us today!
Schedule Your Appointment Today at Fred Martin Superstore!
To get your maintenance and repairs done on your 2022 Wagoneer SUV, be sure to make an appointment with our service center here at Fred Martin Superstore! Here at Fred Martin, we're proud to serve our customers in the Akron area with all of their automotive needs. You can get all of your necessary maintenance like oil changes, tire rotations, wheel alignments, and more. You can also find parts and accessories to help make the most of your vehicle. Plus, you can ask your technician how to sign up for Wagoneer Client Services in order to get a great deal on your maintenance and service appointments, plus tons of other benefits! Make your appointment by filling out our online service form, or by giving us a call today. From all of us here at Fred Martin Superstore, we look forward to working with you soon!