ScoreMax Credit Approval
In search of your next vehicle? Interested in getting a car loan? At Fred Martin Superstore, we will work with you to create a payment plan that fits your budget. We work with over 25 different lenders to obtain the best financing package for your individual needs. We will show you the rates available from several different lenders and let you make the choice. Whether you have bad credit, no credit, or even a bankruptcy, Fred Martin Superstore's credit team can help!
Can I get auto financing if I have bad credit?
Yes, you can! Here at Fred Martin Superstore, we will work with you on an individual basis to make sure we do what it takes to get you the best financing for your situation.  You can even get a car loan while repaying a Chapter 13 or Chapter 7 Bankruptcy agreement. While it is an involved process, we can help! If you are under a bankruptcy repayment plan, you have made a commitment to repay a portion of your debt to your creditors. The amount you must repay is based on how much you can afford. So, adding the purchase of a new vehicle means you are taking on new debt, and that must be approved. It is crucial to take the proper steps with your bankruptcy court trustee in order to take on new debt.
How does the car loan process work if I'm under bankruptcy?
Getting a car loan while repaying bankruptcy is absolutely possible!  As long as you can cover your transportation needs during this time, the steps to take are straightforward. Here is how it works:
Make sure you first find a dealership that will work with chapter 13 or chapter 7 car buyers. Not all dealerships are set up to handle this.  If you have come here to Fred Martin Superstore, we are one of those dealers!
Get the needed documentation from your dealership. This includes a financing statement, info on the general type of vehicle you would like to buy, estimated loan terms, and the estimated monthly payment.
Complete the court process. This involves having your trustee filling out the proper paperwork, having a court motion filed, and hopefully, the approval for the new debt. If the petition is approved, bring a copy of the court order to your dealership, where we will submit it to the lender.
Once we get the lender go-ahead, the sale will be completed, and you will now be the owner of a new car!
Choosing the Best Dealer for Your Bad Credit Auto Loan
Fred Martin is the place to go in the greater Akron area for car buyers that have credit issues. We make it easy for you to get started and submitting an application gives you no obligation for you to buy. Using our Exclusive ScoreMax 3 in 1 Credit Approval Software, Fred Martin Superstore can work to get your automotive loan approved.
ScoreMax looks at the following factors to get you approved:
Credit History
Our Vehicle Inventory
Bank Lending Criteria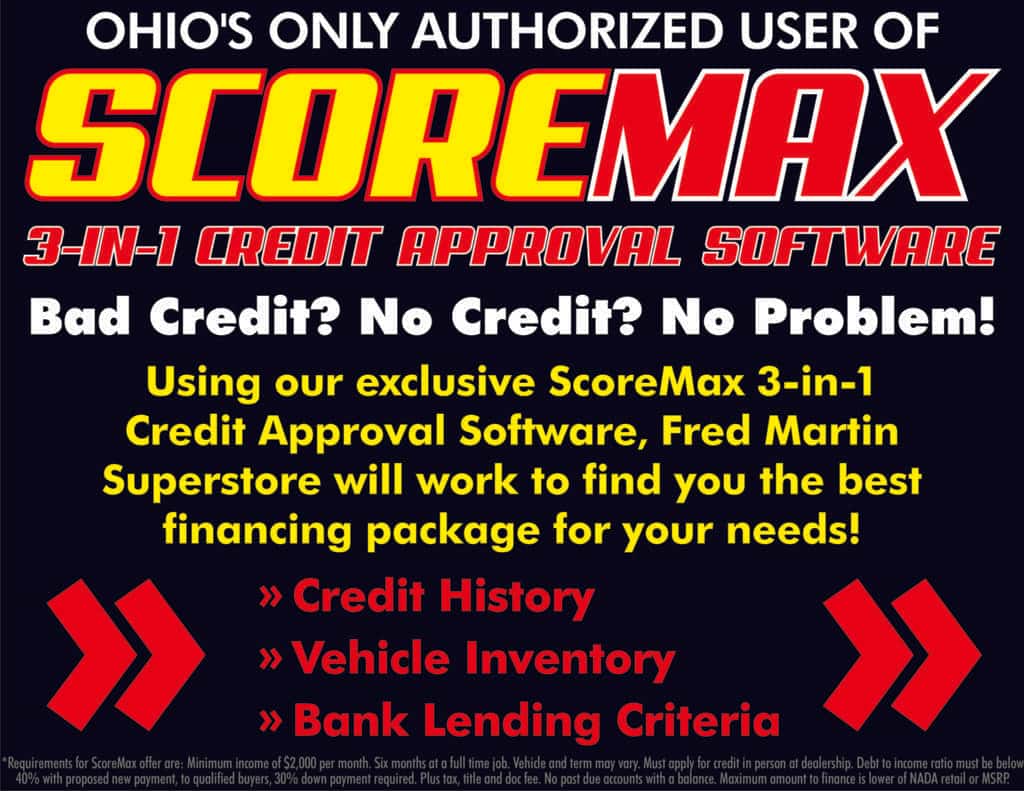 Click Button Below to Apply for Credit Approval:
Leave a Message Below:
*Requirements for ScoreMax offer are: Minimum income of $2000 per month.  Six months at a full time job. Vehicle and term may vary. Must apply for credit in person at dealership. Debt to income ratio must be below 40% with proposed new payment, to qualified buyers, 30% down payment required plus tax, title and doc fee. No past due accounts with a balance. Maximum amount to finance is lower of NADA retail or MSRP.