Intro to the 2022 Dodge Challenger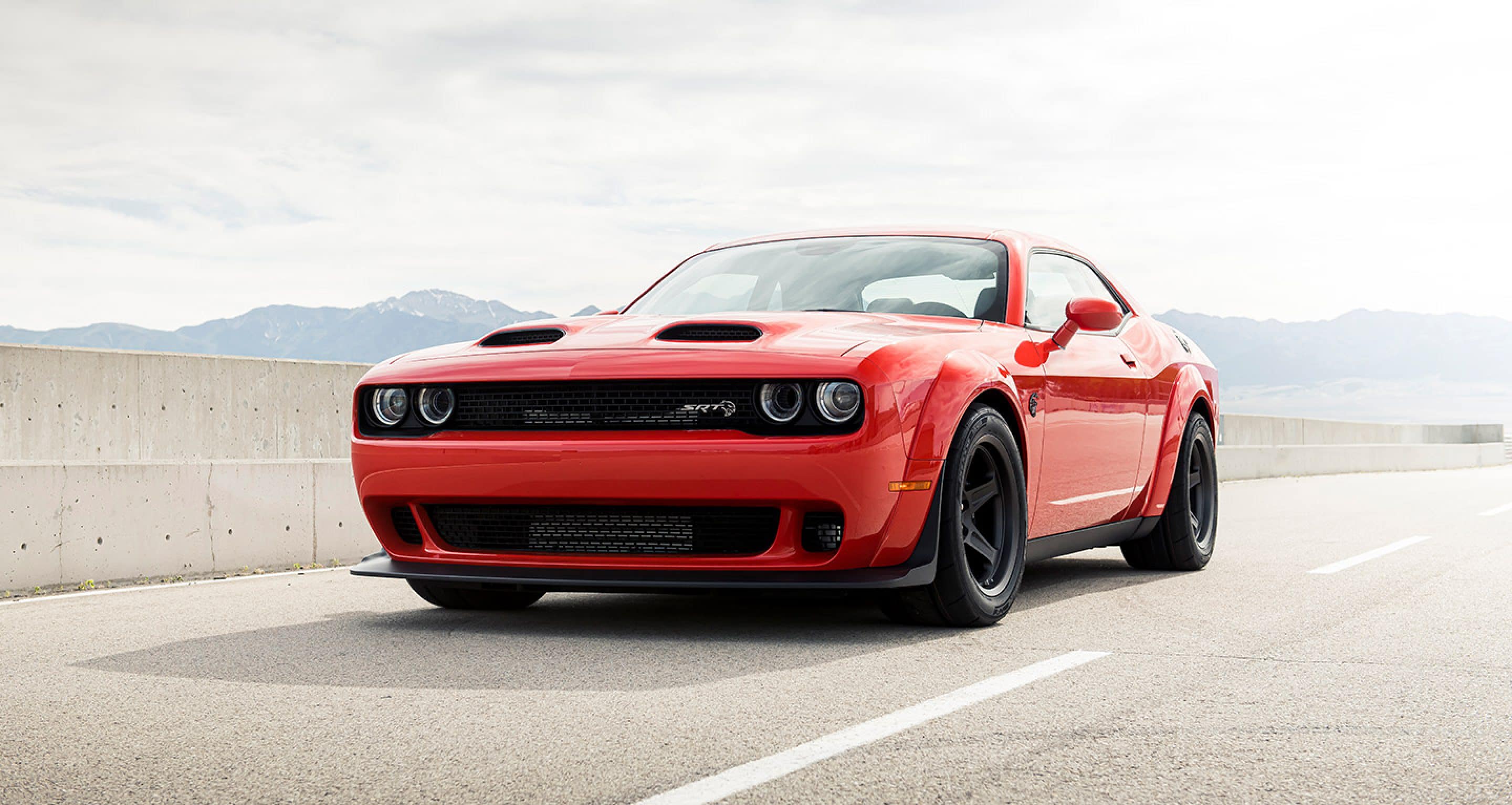 Intro to the 2022 Dodge Challenger
Check out the 2022 Challenger at Fred Martin Superstore
For decades the Dodge Challenger has been the most powerful and quickest muscle car around, and for the 2022 model year, things take another step forward. The Challenger SRT Superstock is the gold standard for muscle cars as it can produce up to 807-horsepower. While this is a ridiculous amount of power, the rest of the Challenger lineup is quite impressive as well as even the base trim comes with a solid 303-horsepower V6 and a class-exclusive all-wheel-drive. In addition, Dodge continues to answer the enthusiast's demand with the most recognizable high-impact, heritage hues and a vast number of appearance packages. With the available Widebody, 1320, T/A, Shaker, stripe, and graphics packages, the Challenger is ready to deliver for its customers! Want to know more about the 2022 Challenger? Continue reading below!
SRT Super Stock
The heart and soul of the Dodge Challenger is the Super Stock as it is powered by one of the best V8 engines around in a supercharged 6.2-liter V8 that puts out 807 horsepower and at 6,300 rpm. Pairing with this potent engine is an eight-speed automatic transmission that is tired-and-true and one of the most robust gearboxes ever created. You also get a Bilstein adaptive damping suspension used for drag racing and shifts as much weight as possible to the rear tires. The SRT Super Stock continues its impressive features list with an all-aluminum Brembo four-piston brake calipers, 14.2-inch vented rotors, standard lightweight 18-by-11 inch wheels, and a performance-tuned asymmetrical limited-slip–differential. Finally, the SRT Race Options include Line Lock, Launch Control, Power Chiller, Race Cooldown, and Torque Reserve. All come standard.
A Wide Range of Engine Options
There are several engine options available for the Dodge Challenger, and each one is mighty. The first couple of trims come with a 3.5-liter V6 with 303 horsepower and a choice of all-wheel-drive. When you get to the R/T trim level, you get the first of the V8 engine options. On the R/T, you get the legendary 5.7-liter V8 that kicks out 375 horsepower, and when you move up to the Scat Pack, you get a V8 that puts out 485 horsepower. Next comes the Hellcat models, with the first getting a 6.2-liter V8 that produces 717 horsepower and the Hellcat Redeye getting up to 797 horsepower. New this year is the SRT Super Stock that has an output of 807 horses. A six-speed manual is standard on the R/T, R/T Scat Pack, and SRT Hellcat, with the option of an eight-speed automatic. All others pair with the eight-speed automatic transmission.  You'll never run out of power with the 2022 Challenger!
Widebody Package
One of the most exciting things about the Dodge Challenger is the spectacular Widebody package! This fantastic package is available on the R/T Scat Pack, SRT Hellcat, and SRT Hellcat Redeye models and adds 3.5-inches to the overall width and rides on  Pirelli tires mounted to 20-by-11-inch wheels and adds an electronic power steering system and SRT Drive Modes which allow drivers to tailor their own driving experience by controlling the horsepower, transmission shaft schedules, paddle shifters, steering, traction, and suspension. In addition, the R/T Scat Pack Widebody features a larger adaptive damping suspension, Brembo six-piston brakes, performance shift indicator, and 20-by-11-inch aluminum wheels.
Multiple Packages
There are several available packages for the Challenger to make your driving experience better. First up is the T/A package, which adds a ton of performance enhancements, including painted Satin Black hood, Satin Black wrapped roof and decklid, 20-inch wheels, Satin Black spoiler with T/A decal, Mopar cold-air intake system, lit Air Catcher headlamps, and white face gauges with Gloss Black cluster trim rings. Additional packages include a Shaker package with cold-air grabbing Mopar Shaker hood, "Shaker" underhood decal, "Challenger" script grille badge, and a Plus Package with several luxury enhancements such as heated and ventilated leather seats, power tilt/telescope steering column, unique wheels and a memory feature for driver seat, steering column, side mirrors, and radio presets.
Learn More about the 2022 Challenger at Fred Martin Superstore
There are plenty of reasons to be excited about the 2022 Dodge Challenger from the numerous powerful engine options, several option packages, and tons of available equipment. Want to know more about the 2022 Challenger? Head down to Fred Martin Superstore and speak with one of our knowledgable and friendly sales representatives, who are more than happy to answer any questions you may have and set you up with a test drive once the Challenger gets released. While you're here, be sure to check out our entire inventory, which you can also view
here on our website!