Dodge Expands Challenger Widebody Package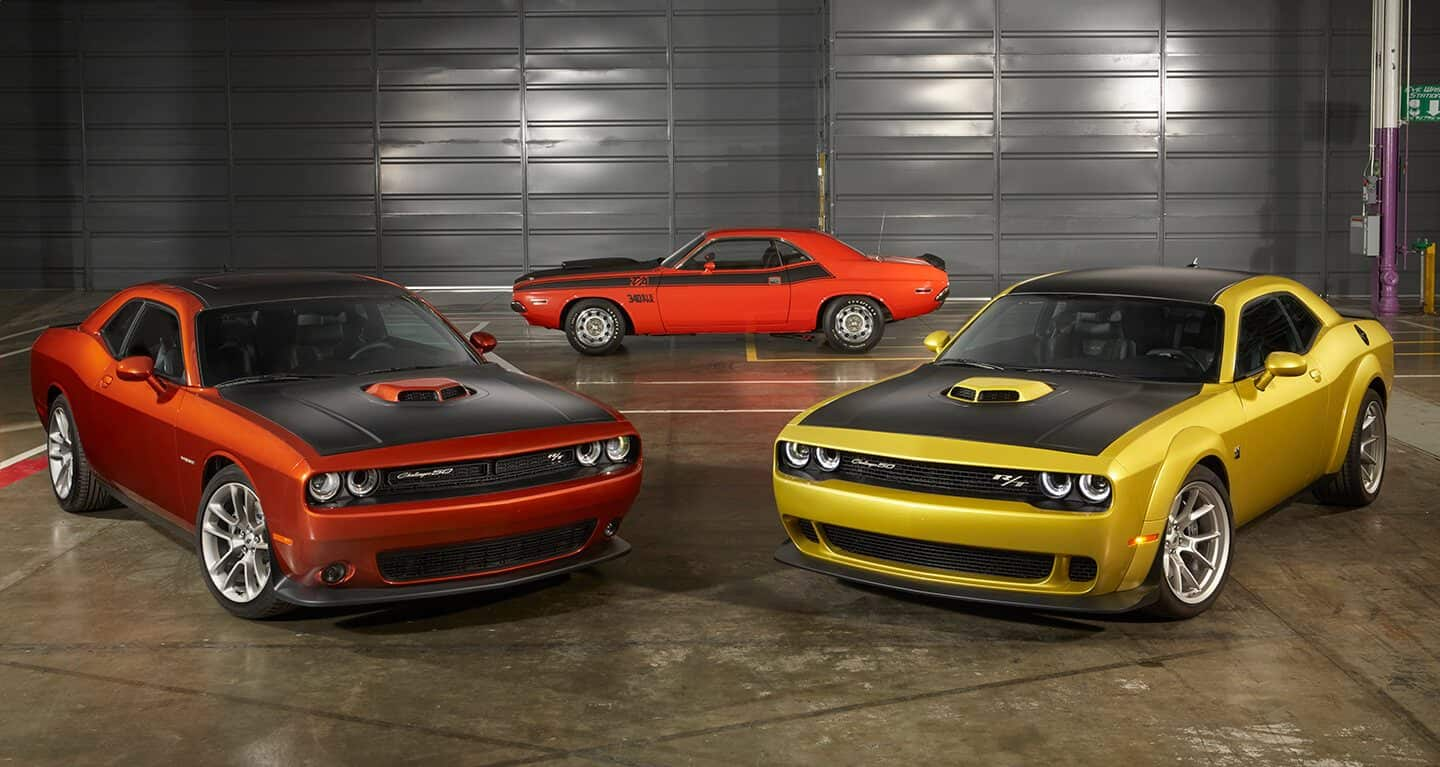 Dodge Challenger Expands Widebody Package
Brought to you by Fred Martin CDJR
The availability of the Widebody package gets even greater in 2021 as Dodge introduces the Challenger R/T Scat Pack Shaker and T/A 392 into the mix. The Widebody package of course will make room for wider wheels and tires, giving the driver better handling and faster drag times! This addition to the Challenger R/T Scat Pack Shaker and T/A 392 is going to open up the door for higher performance and is sure to attract more drivers to join the Brotherhood of Muscle.  Keep reading to hear more about what this exciting new edition to the widebody expansion means!
Strength and Power
The Challenger Scat Pack R/T is already a very impressive vehicle, offering the greatest bang for your buck, which is why the Challenger Scat Pack Shaker and T/A 392 build right off of that power!  They are both powered by the same impressive 392 HEMI V-8 engine that delivers an amazing 485 horsepower and 475 lb.-ft. of torque. Standard for this engine is the Tremec six-speed manual transmission, however, to give you more options and preference over handling Dodge has included an innovative TorqueFlite eight-speed automatic transmission option!  Now for the new model year, when drivers choose to go with the Widebody on the Challenger R/T Scat Pack, they'll get an additional 3.5 inches of overall width, sticky 305/35ZR20 Pirelli tires mounted to 20-by-11-inch wheels, and an SRT-tuned chassis and SRT-tuned high-performance adaptive damping suspension! This allows for a speed upgrade of up to 2 seconds per lap, or 12 car lengths compared to the original R/T Scat Pack! This improvement in speed has drivers begging to join the brotherhood of muscle!
2021 Dodge Challenger R/T Scat Pack Shaker Widebody
The 2021 Dodge Challenger R/T Scat Pack Shaker Widebody is an exciting addition to the Challenger line-up as it was the original CHallenger model in the 1970s.  From the engine compartment, you'll find the iconic cold-air grabbing Shaker that extends out and directs cooler air back into the 392 HEMI V-8 engine. Wanting to pay as much respect to the original model look of the 1970's Shaker hood, the R/T Scat Pack Shaker Widebody celebrates the tradition of an engine-mounted hood scoop that, like the name suggests, 'shakes' with the movement of the power train.   Just as the original Challenger, you will find an underhood decal when you pop the hood of the 2021 Dodge Challenger R/T Scat Pack Shaker Widebody, as well as a Mopar cold-air intake, conical air filter, and optimized air box for better performance and airflow.  You'll be able to reminisce about the original Scat Pack Shaker while sitting behind the wheel of an exciting new and improved model that celebrates speed and performance.
2021 Dodge Challenger T/A 392 Widebody
The original Challenger T/A is considered to be one of the most popular muscle cars of all time, originally built for the Sports Car Club of America's Trans-Am racing series in 1970!  There were only 2,399 ever manufactured, but luckily in the 2021 model year, Dodge plans to have many more than that made to satisfy Dodge driver expectations!  The 2021 Dodge Challenger T/A 392 Widebody takes this initial legacy and builds upon it with some special upgrades in both looks and performance.  Beginning with the looks, the Challenger T/A 392 Widebody has a painted Satin Black hood with Satin Black wrap roof and deck lid to give it a sleek, fierce finish. The hood is finished off with a roof and deck-lid graphic to go with the T.A body-side stripes.  In addition to the graphic on the roof and hood, there is also a black spoiler with T/A decal on the spoiler as well, and a 392 decal on the fender.  Also available as a tribute to the 1970 model are factory-installed hood pins to elevate your look even more.  Inside your Clahhenger T/A 392, you'll find performance seats that are upholstered with Black signature Houndstooth cloth inserts so that the driver and front passenger have greater lateral support.  If you choose to add the Plus Group to your Dodge, you'll get heated and ventilated Nappa leather seats in Black with Tungsten accent stitching and the T/A logo embroidered. Finally, paying even more homage to the 1970's model, you'll find a "tic-toc-tach" gauge cluster with Bright White concave faces and details in Gloss Black.
Get your Dodge from Fred Martin CDJR
The Dodge Challenger Widebody editions are set to arrive at Dodge dealerships early in the new year, so make sure to get your order in now, and pick yours up as soon as it arrives at Fred Martin CDJR! You won't want to wait to test drive one of these special Challengers. But while you wait for this beast to grace the presence of our lot at Fred Martin, check out our inventory online, or call and schedule an appointment to test drive any one of our other amazing models!