What is Jeep Trail Rated?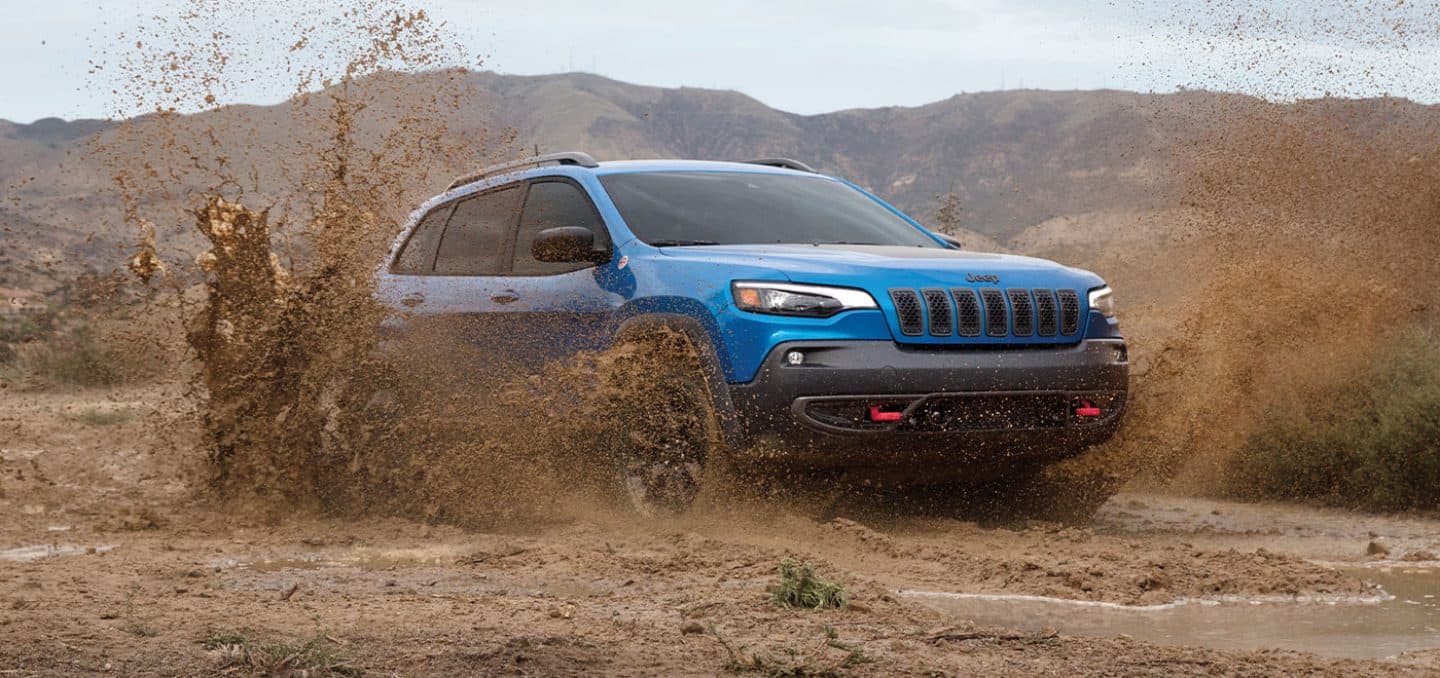 What is Jeep Trail Rated?
Jeep is known around the world to provide some of the most capable mass-produced vehicles. Their off-road prowess expands from the legendary Wrangler to the Trailhawk trim of the tiny but mighty Renegade. All Wrangler and Gladiator models come with the Trail Rated badge, while the Grand Cherokee, Cherokee, Compass, and Renegade all come with a Trail Rated Trailhawk trim level. The Trail Rated badge isn't given; it is earned. All Jeep Trail Rated vehicles are pushed to their limits by a treacherous five-phase test. The five phases test the vehicle's ground clearance, articulation, traction, maneuverability, and water fording capabilities. Keep reading below to learn the story behind every one of the Trail Rated Jeep vehicles!
What are the five phases of the Trail Rated test?
Ground clearance is the distance between the bottom of a vehicle to the ground underneath it. The ground clearance test also measures the approach angle, breakover angle, and departure angle. All three of these angles are maximized on Trail Rated Jeep models to provide optimal off-roading capability.
Articulation measures how far a suspension system travels vertically to keep all four wheels on the ground. When using a vehicle for off-roading, drivers want all four wheels planted to maintain maximum control. From deep potholes to rocky terrain, a Trail Rated Jeep can overcome it!
Traction is the grip that a vehicle is able to maintain with the road. This test ensures that Jeep's legendary 4×4 systems are up to par with the standards they have set for themselves year after year. A Jeep Trail Rated vehicle will get you where you need to go no matter the road conditions.
Maneuverability tests are in place to ensure that the test subject can navigate over rugged terrain and narrow switchbacks while staying in control. Trail Rated Jeeps pass this test with meticulously designed wheelbase and carefully crafted steering systems.
Water fording is tested to see how much water a vehicle can take on without damaging electrical or mechanical systems. A fantastic example of this is the all-new Jeep Wrangler Rubicon 392. Like all Trail Rated Jeeps, the 392 features sealed electrical connections and wires and an air intake placed at the top of the engine bay, up and away from water. Exclusive to the 392 is the HydroGuide air intake, which channels water away from the engine and also provides a secondary air duct in case the main one becomes obstructed.
Where do the Trail Rated tests take place?
In order to test a vehicle's off-roading limits, you need to find some rugged terrain, and it doesn't get much more rugged than California's Rubicon Trail and the trails of Moab, Utah. The landscape of the Rubicon Trail is subject to constant use and harsh weather, creating an ever-changing road surface. The Rubicon Trail features large boulders, steep rock faces, and streams to test all five areas that a Jeep Trail Rated vehicle has to pass. The desert rocks of Moab, Utah, create a great environment to test a vehicle's articulation, ground clearance, and traction.
Why does Jeep perform the Trail Rated test?
Jeep is proud of its off-road capability, and they're not afraid to show it! Jeep has been known for many years to provide vehicles with superior off-road capabilities. Off-road enthusiasts and critics alike hold Jeep to a high standard. Jeep began the Trail Rated program in 1994 to ensure Jeep customers and critics that the off-road capability maintains its superiority. The Trail Rated tests are in place to examine the vehicle's off-road capability and make sure drivers know that the car is as capable as Jeep says it is.
Trail Rated Jeep's at Fred Martin Superstore
You might not ever need a vehicle that's capable of climbing a nearly vertical rock face, navigate brutal mountain switchbacks, or power through up to 30 inches of water. But hey, if it can take that, it can handle anything you need it to! Are you interested in getting behind the wheel of a Jeep Trail Rated vehicle in the Akron area? Then come on down to Fred Martin Superstore to test drive one with a sales professional! If you're not ready to make your way to the dealership quite yet, you can start your search today right here on our website.