Watch For Flood Damaged Vehicles In The Marketplace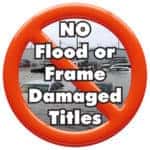 Hurricane's Harvey and Irma are weeks behind us, but cleanup efforts are still underway in Texas and Florida.  The two Category 4 storms made landfall within two weeks of one another, and submerged and destroyed cars across the southern portion of the United States.
Cox Automotive estimates that Harvey destroyed 300,000 to 500,000 vehicles in Houston alone with another 200,000 to 400,000 destroyed by Irma. Many of these vehicles could end up back in the market, purchased by unsuspecting buyers who would never knowingly purchase a flood damaged vehicle.
Below are a few red flags that may indicate a vehicle has been flood damaged:
The title has been turned more than once in the last six months.
A multi-state title- less than 10% of all vehicles bought and sold are multi-state owners. Titles can be re-registered in a separate state after a flood.
Rusted bolt heads on the lower level of the interior. Look under the seat and around the location of the seat bolts on the floor.
Carpet condition- the carpet may seem too nice for the age and miles on the car.
Cigar smell- many professional flood car flippers have figured out you can never get rid of the flood odor. They often smoke cigars in the car to help hide the flood smell and convince the buyer the previous owner was a heavy smoker.
Moisture in the tail lights, head lights or spare tire storage well.
Check under the hood in hard to reach spots and look for deposits of mud and silt.
Look under the driver and passenger foot area up into the dash to look for water stains or silt. Flippers normally always clean the driver's side but not may neglect the passenger side.
Check all electronics to make sure they work. Listen to the radio and turn it up loud.  Speakers dry out well so flippers never replace them.  However, 90% of all speakers are made of cardboard.  When they break down they crackle when volume is turned up.  When a flooded vehicle's speakers have dried out they are typically only good up to about 75% of the original sound.
To avoid purchasing a flood damaged vehicle, check for these red flags or bring the vehicle to a professional technician for an inspection. Remember, Fred Martin Superstore does not sell flood or frame damaged vehicles.  Purchase your next vehicle from us and let Fred Martin Superstore do the homework for you!