Flat Rate Shipping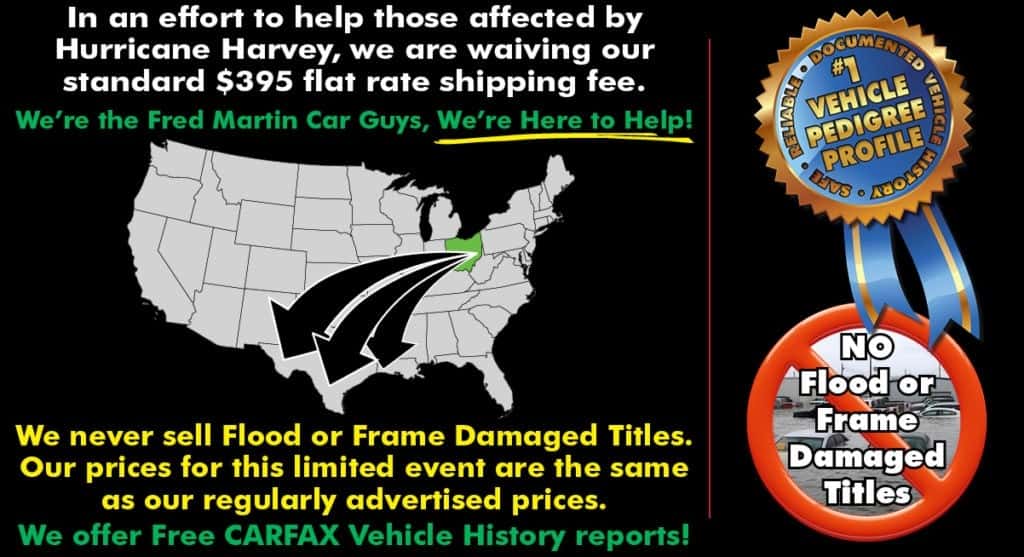 We have all been gripped by the unsettling images of Houston in the aftermath of Hurricane Harvey.  The bright spot has been hearing stories of strangers banding together to assist others in evacuating and beginning what will undoubtedly be a lengthy cleanup process.
On the other hand we have also been listening to the warnings of flood damaged vehicles being sold to unsuspecting buyers and dealerships increasing prices to try and take advantage of people in desperate need of transportation.
Fred Martin Superstore has decided to waive our standard $395 flat rate shipping fee to those impacted by Hurricane Harvey.
We understand that part of rebuilding what was lost as a result of Hurricane Harvey is getting back into a reliable new or used vehicle for a reasonable price.  Choose your vehicle and let us take care of the rest.
We offer everyday low prices, and we don't sell vehicles with flood or frame damaged titles.
All you have to do is make sure your car is insured before we ship, then sit back, and we'll take care of the rest of the details. We'll deliver your new or used car right to your driveway. Vehicle shipping has often been an anguishing experience. Here at Fred Martin, we make the effort to ease your experience and make buying cars online, from different states, as easy as possible. We pride ourselves on giving our customers a wonderful and easy buying experience and that includes delivering your vehicle right to your front door!
Call or simply fill out the form below to see if you qualify for free shipping.
Our Standard Flat Rate Shipping fee of $395 will continue to apply in the continental 48 states.