Surviving the Winter – Tips and Tricks
Surviving Winter Weather  for Car Owners
If you're a grade school kid in a cold-weather state, there are two words in winter you perpetually long to hear – snow day. If you're a working professional, it's just the opposite. Rather than a reason to extend deadlines, reschedule meetings or cancel calls with clients, an overnight snowstorm often means just a slower, more cautious, and more uncomfortable drive to work.
While you can't always avoid commuting in less than ideal conditions, you can prepare for inclement weather well before it hits. We recommend following along with our guide to make sure you and your daily vehicle are ready for the winter months.
______________________________________________________________________________________________________
Starting Your Car in Subzero Temperatures
If your car is having trouble starting because of the subzero temperatures, here are some tips:
Among the best moves you can make to improve your car's chances of starting the next time the temperature plunges below zero are to make sure your battery and charging system are in good shape and that your engine is using the correct grade of oil
Your cars odds of starting will improve even more if you add an electric battery blanket and/or an engine block heater to your anti-winter arsenal. In cold temperatures, the load your engine needs to crank over is much higher because the engine oil becomes very thick. If your engine is cranking slowly, you should take it in and have the battery checked, especially if it's more than 3 years old.
After three years, a car battery has lost some of its original capacity. Adding extremely cold weather to that can reduce a battery's remaining capacity by more than one-third. That is because electrons slow down when it is cold. The chemical reaction inside the battery that creates electricity just doesn't happen as fast when it's cold.
If you are taking your battery in to be checked, it is also a good idea to have the alternator and charging system looked at and make sure the battery terminals are clean and the cables are in good shape. The battery also doesn't recharge as quickly in the winter because there are other things taking up the power, like driving more in the dark hours of the day and constantly using the heater.
The real trick to starting an engine when the thermometer is below zero is to just have a well-maintained car. Bring it in to Fred Martin Superstore's Service Center to get it checked out or give us a call at 330-753-4444 to schedule maintenance! Our service department is currently offering complimentary battery checks and $10 off the purchase of new batteries!
______________________________________________________________________________________________________
Prepare a Winter Emergency Kit
Before you head out, make sure your car is stocked in case of emergency. Storing the kit in your car all year seems like overkill, but it is always best to stay prepared and takes up less space than you would think. A good emergency kit should include things to aid both your survival as well as your cars.
The greatest thing you could carry to help out your car are jumper cables, as dead batteries are very common in cold weather. For your own safety, an emergency kit should also include a first-aid kit, bottled water, non-perishable snacks, a cell-phone charger, extra hats and gloves, blankets, a pocket knife or multi-tool, and a flashlight.
Many purchasable emergency kits also include road flares to keep your vehicle visible to other drivers at night. A collapsible snow shovel is also a great idea in case you need to dig yourself out of deeper snow.
You can order Roadside Safety Kits and Safety and Health Kits right from Fred Martin Superstore's Parts Department! Or give them a call at 330-753-4444
______________________________________________________________________________________________________
Getting Stuck in Snow
On the topic of getting stuck, even just parking your car outside in the winter can mean getting snowed in. Do you know what to do if your car is stuck in a snow bank or on a patch of ice?
The first thing you shouldn't do is floor the gas pedal. Anytime you are spinning your wheels, you are basically just polishing the surface and creating more ice and slush on the tires. That means less traction and more burnt rubber smell.
Instead, follow these tips to avoid needing a tow:
It is common to think you should shift into a low gear, but this actually makes things worse. Low gears mean sending more torque to the tires and more of a chance of spinning the tires. If you drive a standard you have a better chance if you shift to 2nd gear. Automatic transmission vehicles with Snow mode typically start in 2nd or even 3rd gear.
Getting going on snow or ice is all about momentum. Even if you can move back and forth an inch, that can work. Sometimes even shifting from drive to reverse and rocking the vehicle can build enough momentum to get you out of a sticky situation.
Another tip is to keep the front wheels pointed straight as much as possible. When you are trying to accelerate and steer at the same time, you are splitting the vehicles efficiency between two things. The second you turn the wheels, you are going to have less traction and lose most of your forward momentum.
We all know road salt can melt ice and snow so wheels can grip the pavement. Kitty litter or sand can also give the tires something to grip to get you moving. Don't have those, even a floor mat from the car can work as a traction aid when placed under the drive wheels of the vehicle.
Finally, as uncomfortable as it might be, you sometimes cannot get out from the comfort of a warm driver's seat. Sometimes it is just faster and easier to get out of the car and shovel your way out. This is where having a collapsible shovel in your vehicle is great.
______________________________________________________________________________________________________
Safely Navigating Winter Roads
Once you're on your way, drive with extra caution; ice and snow greatly reduce traction and can make driving very dangerous. For navigating icy roads safely, it is not just about slowing down. Follow these basic guidelines from AAA:
Be aware of and on the lookout for black ice. Pavement with black ice will be slightly darker and duller than the rest of the road surface. Black Ice commonly forms on highly shaded areas, infrequently traveled roads, bridges and overpasses.
Bridges and overpasses freeze first and melt last because of the air flowing underneath them. Use extra caution driving on both.
Avoid frequently changing lanes – patches of ice between lanes could cause you to lose control.
Turn slowly. Going around a turn is where you are most likely to spin out. To avoid this, approach a turn much slower than usual and avoid pressing the gas pedal while turning. You are much less likely to spin if you only apply the gas when your wheels are pointed straight.
Brake slowly and leave lots of stopping room. Leave at least three times more room than usual between you and the car in front and pay close attention to brake lights ahead so you are not braking last second.
If you have anti-lock brakes, do not pump the brake pedal; the vibrations and pulsating against your foot is actually the antilock system at work. If you do not have anti-lock brakes, it can help to practice manually pumping your brakes in an empty lot. This can help you get a handle on how to keep your car under control so that you will keep your cool in a slide.
Remember, four-wheel drive does not help you stop any faster than a RWD or FWD vehicle, do not drive recklessly just because you have a 4×4.
Lastly, if your car is equipped with rear-wheel drive, well, turn the car off, back inside, and move somewhere that has no winter … or follow these extra steps on top of those to keep yourself from fishtailing:
Put extra weight on the back – bags of sand or cinder blocks in the trunk work well.
Go easy on the gas and start in a higher gear to avoid wheel spin.
Limit your braking to a straight line. Avoid braking and turning at the same time. Instead, brake before you enter the turn and don't try and accelerate until you have made the full turn.
Even though it seems like the smart thing to do, never "death grip" the steering wheel. If you are holding onto the wheel too tightly when your back end slips out, you can panic and accidentally jerk the whole car rapidly in a different direction, causing you to spin out worse.
______________________________________________________________________________________________________
Routine Maintenance and Repair Work
The transition from one season to the next, especially fall to winter, is a great time to make sure your vehicle is up to date on all maintenance and repair work. If you're overdue for an oil change, for instance, make an appointment.
Oil changes often include a multi-point inspection that can tell you much about your vehicle's readiness for winter. Are your headlights and taillights functioning properly? Do your windshield wipers need replacing? Are all fluids topped up to recommended levels?
A working windshield washer system filled with fluid that doesn't freeze and good wiper blades are necessities to combat the snow, slush and salt that accompanies nasty winter weather.The cooling system should be filled with the proper mix of antifreeze and water (usually 50/50) and capable of providing freeze protection well below zero.
Your heater and defroster should be in good working order not only for your comfort but because in frigid weather the windshield and other windows can frost up – and you won't be able to see where you're going.
The good news is you can get all this and more checked on your vehicle in no time at Fred Martin's Speedy Wash and Lube! Bring your car in for a routine oil change and our technicians inspect everything on your car from taillights to wipers! Really, we do it all:
Lube, Oil & Filter Service
Replace Engine & Cabin Air Filters

Nitrogen Tire Inflation

Wiper Blade Replacement
Light Bulb Replacement
Gear Box Oil Service
Battery Terminal Cleaning
Battery Terminal Corrosion Treatment
Vehicle Inspections
No need to call ahead or schedule an appointment, come down whenever you have a free 15 minutes! Our Quick Lube lane is open 7:30am to 6pm weekdays, 8am to 5pm Saturdays!
______________________________________________________________________________________________________
Check Tire Pressure and Tread
A part of doing routine maintenance means checking your tire pressure and tread, Don't wait until the season's first big snowstorm to realize you need new tires. Replace or rotate your tires before winter if they show excessive or uneven signs of wearing.
How can you tell how much tread is too little? You can do the penny test, but We recommend taking your car to the trusted professionals at your local dealership. Our technicians at Speedy Wash and Lube and the Fred Martin Superstore Service Center are trained to precisely determine how much tread is left and help you decide if a tire rotation, complete replacement or no action at all is your best way forward.
In deep snow, even a good snow tire that is half way worn down only gives you the performance of a regular all-season tire because you've lost tread depth. Once a regular all-season tire is half worn, it gives you the performance of a summer tire and it really has no place on ice or snow.
Also consider checking your tire pressure on a regular basis, especially during cold snaps. The colder it gets the more tire pressure drops. Maintaining the pressure recommended by the manufacturer will help avoid punctures, keep it from wearing down too fast, and help your car achieve its top fuel economy. If you want to learn more about tire maintenance and replacement, check out our helpful online Tire Info Center.
Give our service center a call today to schedule an appointment to have your tires checked! 330-753-4444
______________________________________________________________________________________________________
Cosmetic Maintenance
When you're ready to hit the road, know how to safely remove snow and ice from your car to protect it. Summer will eventually arrive and no one wants a scratched paint job to remind them of those bitterly cold days.
First, do not pull out any old broom and start sweeping away or you'll quickly find that your paint job doesn't look as good with brush strokes scratched into it. The recommended tool for snow removal is a foam brush.
Do not push the snow off the vehicle either. Instead, you should pull the snow in a straight lines from the top down or towards the hood. The windshield and window glass is very hard, so there is no need to worry about scratching that.
Minimizing contact between the paint job and a brush is smart. Do not try to remove every little flake of snow with a brush, try to focus only on essential areas like windows, mirrors, and lights. You should still clear big piles of snow off your vehicle so you don't become a hazard to other drivers, but other than that, let the heat from your engine and the sun do most of the work to parts of the car that are not essential for safe driving.
Protecting the interior of your car starts with all-weather mats. Tracked-in soil can be routinely vacuumed, but water from snow can cause significant damage to a cars upholstery over time. You can order All-Weather Slush mats and Premium Carpet mats for your Chrysler, Jeep, Dodge, or Ram vehicle right here at Fred Martin Superstore's Parts Department! Or give us a call at 330-752-1177
______________________________________________________________________________________________________
Bring on the Heat!
Even on the best winter days, cold seats and a cold steering wheel just add another shock to your commute. But winter weather does not have to be so chilling, thanks to convenient technologies such as remote start and heated seats, steering wheels and door mirrors.
With remote start, you never have to get into a cold vehicle again. Simply start your vehicle a few minutes before you head out the door. The best part is that you can do this with ease from the Ucconect App on your phone or smartwatch. Fred Martin Superstore's Service department is currently even offering $50 off the purchase of all Remote Starters!
Once inside, you won't have to hop out again with available heated side view mirrors and a heated washer system. Just know that once you activate the heated seats and steering wheel, the pull is strong to stay inside your vehicle a little while longer.
Don't let winter weather keep you in hibernation!  All of these technologies are standard or available in a package on all of our Chrysler, Dodge, Jeep® and Ram vehicles or available aftermarket through Mopar.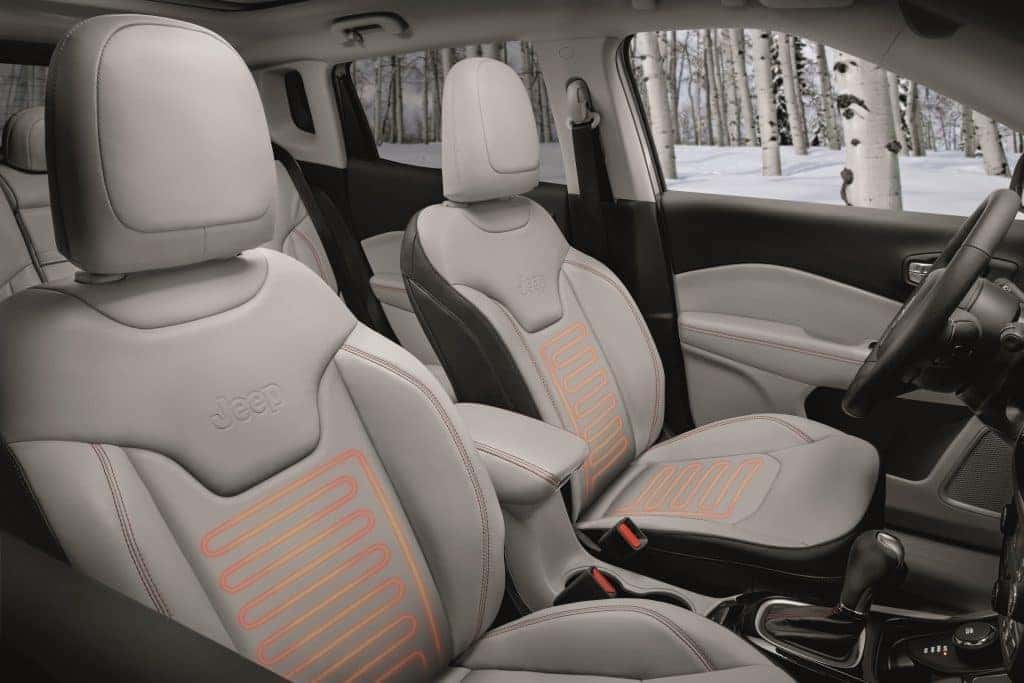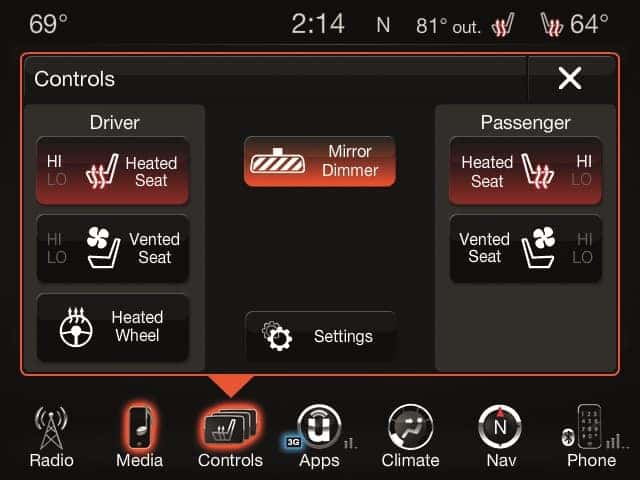 ______________________________________________________________________________________________________
Upgrade to Four- or All-Wheel Drive
Newer vehicles have traction-control systems as well as electronic stability control systems, required on all U.S. cars starting with the 2012 model year. ESC monitors where the driver is pointing the car versus what the car is actually doing and can apply the brakes to any of the wheels to help steer a fishtailing vehicle back on course.
If your car is older, before the roads get bad might be the best time to upgrade. The ultimate measure in winter preparation is to buy or lease a brand-new vehicle. An even better choice could be to get a vehicle with four-wheel drive (4WD) or all-wheel drive (AWD) for optimal traction and control.
If it is time for a new vehicle, keep in mind that many of our Chrysler, Jeep, Dodge, Ram and Fiat vehicles offer exceptional 4WD and AWD capabilities and are engineered to perform exceptionally in all types of weather.
Visit us at Fred Martin Superstore, go online to FredMartinSuperstore.com, or give us a call at 330-753-4444 to begin exploring your new car options!