Jeep® Wrangler Named the "Most-American" Vehicle of 2017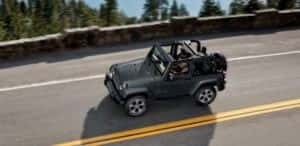 Lately, there's been a lot of talk in the Canton, OH area and elsewhere about how American automobile manufacturers are outsourcing their production to other countries, costing Americans jobs. Here at Fred Martin Superstore, we are pleased to report that FCA US LLC is an American automaker that takes pride in keeping vehicles and vehicle components made here in the United States. This is evidenced by the Cars.com American-Made Index, which recently named the 2017 Jeep® Wrangler the "Most-American" vehicle of 2017. 
If you're unfamiliar with it, the Cars.com American-Made Index (AMI) ranks cars based on five factors: assembly location, domestic parts content, US factory employment adjusted by sales to reflect how many employees each sale supports, engine origin, and transmission origin. Essentially, the index is aiming to determine which vehicles are the most American, based on where the parts are assembled and how the manufacturing process affects the local economy.
At the end of the study, the editors found that the 2017 Jeep Wrangler and the 2017 Jeep Wrangler Unlimited were the most American vehicles. These two rugged SUVs are built right here in Ohio, up at the FCA US LLC plant in Toledo. The number two spot went to the 2017 Jeep Cherokee, another vehicle that's sold here at our Jeep dealership serving Canton OH. The domestic parts content was among the highest found in the survey, and all engines and nearly all transmission parts for these two SUVs hail from the United States.
Here at our dealership, we're proud to carry these made-in-America SUVs. If you're looking for a rugged, off-road-ready SUV, visit our dealership and get behind the wheel of the 2017 Jeep Wrangler.