Here We Grow Again!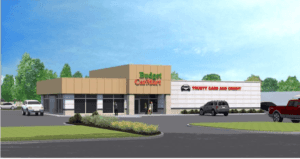 Fred Martin Auto Group is expanding, bringing new life to a vacant stretch of buildings along Arlington Road.
Just North of I-77 on Arlington Rd. sits a 2.7-acre vacant property formerly housing a Friendly's, Pizza Hut, and a White Castle. The Pizza Hut closed in 2006, allowing us to purchase the property in 2010 with intentions of opening a smaller building. It then came by surprise when both the White Castle and Friendly's closed in 2014. Fred Martin was able to purchase all three properties!
We plan to have our brand new facility up and running in the Spring of 2018!
The dual-use building will include a Budget Car Mart as well as a Trusty Cars and Credit for leasing vehicles.
We are incredibly excited about the high traffic location of this property being near I-77 and the retail around Arlington Road and the Green Auto Mile. We are also very glad to be cleaning up the vacant lots to help improve the look of the area for all residents and business.
Fred Martin will also be looking to hire approximately 25 people for the new facility! Stay tuned for more updates on hiring, the construction progress, and when we expect to hold our Grand Opening!