Fred Martin Superstore Donates 19th DARE Vehicle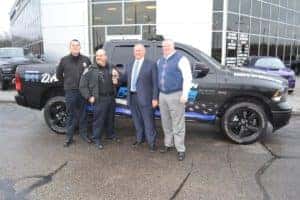 Police Chief John Dalessandro took the keys on November 26th, 2018 to the newest in a long line of DARE vehicles from Fred Martin Superstore, this one a four-door Ram 1500 pick-up.
"We went with a 'Thin Blue Line' theme," Dalessandro said.
The sleek new Ram is accented with the black and blue police memorial flag and blue lettering, in addition to several Norton Panthers highlights.  This vehicle marks the 19th donated by Fred Martin Superstore.
"We got our first DARE vehicle from Fred Martin in September 1999," Dalessandro said.
This was the same year the dealership opened.
"We try to replace them about every two years," Fred Martin president Adam Huff said.
To keep rotation from slipping through the cracks and fresh vehicles on the road, the vehicles are leased.
"We make the lease payments," Huff said. "And we own the lease; we don't sell it to a third party."
At the end of the lease period, the department has the option of buying the vehicle outright. They did this recently with a Jeep and one pickup truck. The most recent, though, went back to the dealership in exchange for this one.
"This is a fully functional police vehicle," Dalessandro said, pointing to the secure prisoner compartment in the back and the semi-automatic rifle and data terminal up front.
It was scheduled to enter active service that afternoon.
Fred Martin Superstore is proud to support our local Norton community by donating this Ram.  Everyday these men and women are out educating the young to lead lives free from violence, substance abuse, and other dangerous behaviors. We hope with this all-new vehicle, we were able to assist getting them to where they are needed.
Fred Martin Superstore is located at 3195 Barber Rd., Barberton, OH 44203 and is "Ohio's Largest Used Car Dealer" and a leading seller of new Chrysler, Dodge, Jeep, Ram and Fiat brands.