Fred Martin Collision Center – Tessa Baker Moving Up in Non Traditional Field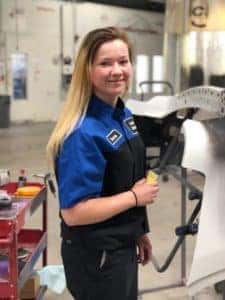 Tessa Baker, a 2018 graduate of Cuyahoga Falls and completer of the Collision Repair Program, is one of a few women in the field. She was the only female in her class and has faced challenges from male coworkers, but "I'm still going for it," she explains.
Recently, Tessa was hired by Fred Martin Collision Center located in Norton, where she is "finally getting into paint." Currently, she is mixing paint, priming parts and getting experience. "I really appreciate working at a shop that cares about my career," Tessa explains. "I am neat and organized when prepping–disassembling and reassembling wrecked cars. It's like putting together a puzzle for me."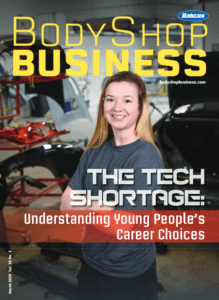 After helping her dad, who renovated houses, prep and paint rooms, Tessa says she always wanted to paint cars. "I really wanted to learn, and I listened to Mr. Jones and took his advice."
Instructor Todd Jones says, "Tessa excelled in my program and loves working on cars. If I owned a body shop, I would hire her in a minute."
Tessa Baker was also featured on the cover of the industry magazine Babcox Body Shop Business March 2020's Issue! The Fred Martin Auto Group is happy to have her on our team and work beside her as she continues to grow in the field.
If you ever get in an accident, you can trust Tessa and our team of professionals at the Fred Martin Collision Center to assist you the best we can. Visit FredMartinCollision.com to learn more or if you ever get in an accident give our 24/7 Towing Hotline a call at 1-800-252-3096.