Chrysler Pacifica Named "Utility Vehicle Of The Year"
Chrysler Pacifica Named "Utility Vehicle Of The Year"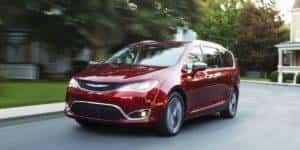 The Chrysler Pacifica minivan was named the 2017 North American "Utility Vehicle of the Year" at the North American International Auto Show in Detroit this past January.  The award is new for 2017, in recognition of the growing popularity of SUV-style vehicles and minivans.
The Chrysler Pacifica minivan got 300 points to top the Mazda CX-9, 135, and Jaguar F-Pace, 125. The award for utility vehicle of the year is new for 2017. It includes sport utility vehicles and minivans. It was added due to surging consumer interest in SUVs, many of which compete with minivans as kid-friendly family transportation.
The Pacifica minivan replaces two models in Fiat Chrysler's lineup, the Chrysler Town & Country and Dodge Grand Caravan. Its innovative features include a plug-in hybrid model that can go 35 miles on a charge, enough to cover daily driving for many minivans.
The North American Car and Truck and Utility Vehicle of the Year awards honor excellence in innovation, design, safety, performance, technology, driver satisfaction and value.  Initiated in 1994, they are judged about 60 professional automotive journalists from the United States and Canada who work for magazines, television, radio, newspapers and web sites. They are the longest-running award not associated with a specific publication, a structure that produces a diverse base of jurors.
Visit FredMartinSuperstore.com to view our large inventory of Chrysler Pacifica's!