The Jeep Cherokee is 1st in Cars.com's 2019 American-Made Index™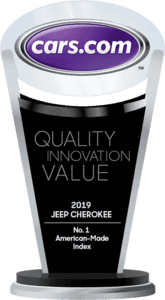 When shopping, many Americans consider where products are built in hopes of contributing to the U.S. economy and jobs. Cars.com's American-Made Index analyzes a range of factors to determine which new cars and trucks contribute more to the U.S. economy, regardless of where the manufacturer's brand is headquartered.
Every year, Cars.com's editorial team reveals the American-Made Index which highlights and showcases cars that are "most-American based on several factors including the percentage of their parts that are sourced domestically, the jobs they support and more. But the starting point for any car that might make it into the index is final assembly in the U.S.
For 2019, The Jeep Cherokee has topped the American-Made Index! The Cherokee has topped the American-Made Index! Manufactured in Belvidere, Illinois, the Cherokee is the index's top vehicle for the second year in a row after also taking the top in 2018. It also gives FCA the top slot for three years running, as the Jeep Wrangler topped the index in 2017.
The 2019 Jeep® Cherokee takes the authenticity and craftsmanship of traditional Jeep Brand design and reimagines it for modern adventure. New, improved LED Headlamps and taillamps, coupled with new wheel designs and premium exterior convenience features, evolve Cherokee styling while holding true to its renowned roots.
State-of-the-art technology meets a refined and expertly crafted interior in the 2019 Jeep® Cherokee. Improved cargo space, next-generation Uconnect® technology, rich interior fabrics and leather-trimmed touchpoints make the Cherokee aptly designed for comfort, adventure and all things in between. Over 80 standard and available safety and security features help ensure you take in all of the adventure and none of the worry.
All this manufactured into what is today's Jeep Cherokee, made right here in the United States.
Come and test drive a new Jeep Cherokee today or view our inventory online at FredMartinSuperstore.com!