What We Know – 2019 Ram 1500
What We Know & Hope For in the All-New 2019 Ram 1500
With the reveal of the All-New 2019 Ram 1500 set for January 15th, we are just days away from the sheet being pulled off! In the build up to the official reveal, we've had spy shots come in revealing tons of information about the truck. Here is a break down of what we know, and a little bit of what we hope for!
The Grille
The latest spy photos have given us a very clear look at the truck's new grille, which boldly does away with the signature crosshair grille of past Ram trucks. The main iteration we've seen is the one with the "RAM" logo front and center, flanked by split chrome bars. Chrome is actually used extensively in the styling of the new 1500.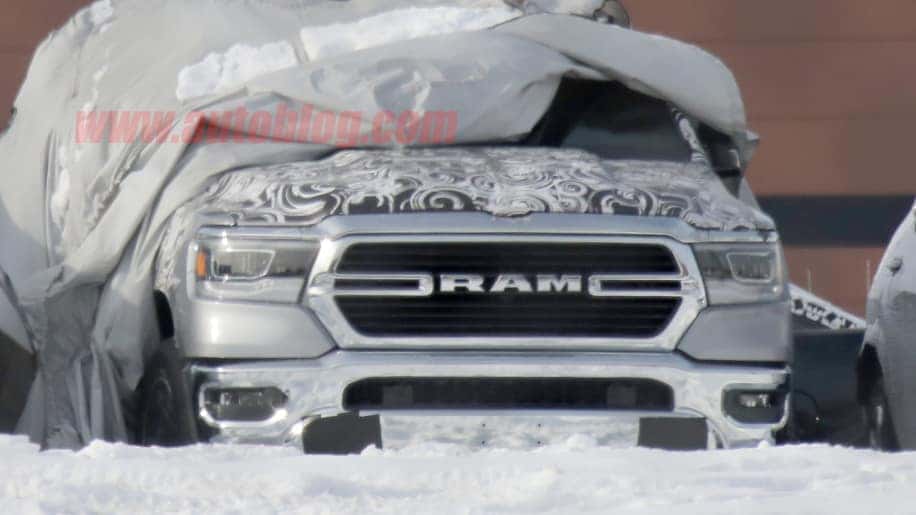 The traditional Ram Head logo has also been scrapped, at least on the exterior, in favor of the broad RAM text currently seen on the Ram Rebel, Laramie Longhorn and Limited trims. This seems like a change that the brand has subtly been trying to get its customers ready for overtime with its limited trims on 2017 and 2018 models. It is highly likely that Ram will continue to offer multiple grille options to differentiate between models and trims.
Interior
We got pretty good shots of the new Ram interior a few weeks ago from a very gutsy spy photographer. The biggest thing that stands out: There will be a massive, vertically oriented touchscreen available. possibly with an updated UConnect interface software.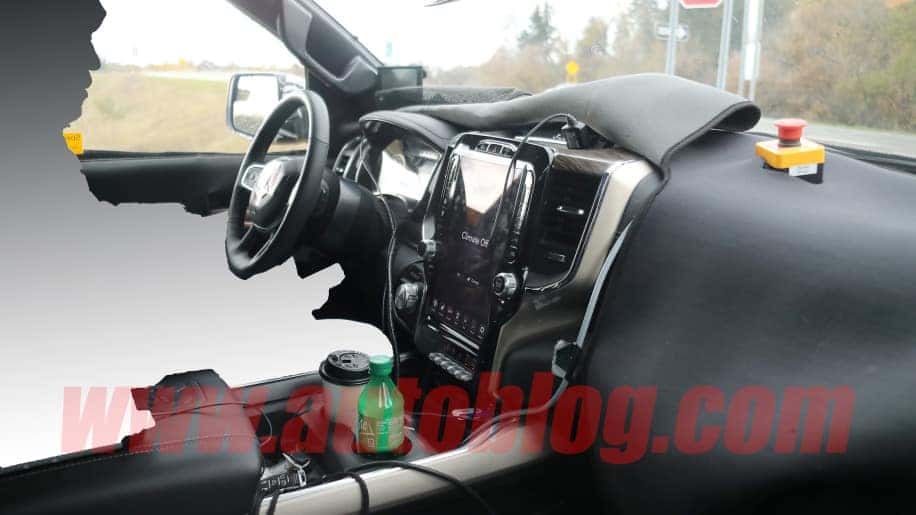 A volume knob, climate control buttons, and redundant multi-purpose control knob will remain, as will the rotary transmission selector. New toggle switches below will be dedicated to various vehicle controls, and we would assume would remain in place throughout the trim level range. Smaller touchscreens will almost certainly be found on lower trims with a more traditional array of climate controls.
Body / Tailgate
A magnet-wielding spy photographer back in August examined a 2019 Ram test mule's body panels and discovered the majority of them are steel. The hood and tailgate are aluminum, however. You can view that magnet spy video here https://www.autoblog.com/2017/08/10/2019-ram-1500-pickup-steel-aluminum-hood-tailgate-spy-shots/
Speaking of that tailgate, many spy photos have shown that it will be available with a split, barn-door-style tailgate option. A traditional fold-down version will undoubtedly also be offered. Interestingly, this won't be the first split tailgate for Fiat-Chrysler, since the foreign-market Fiat Toro has one as well.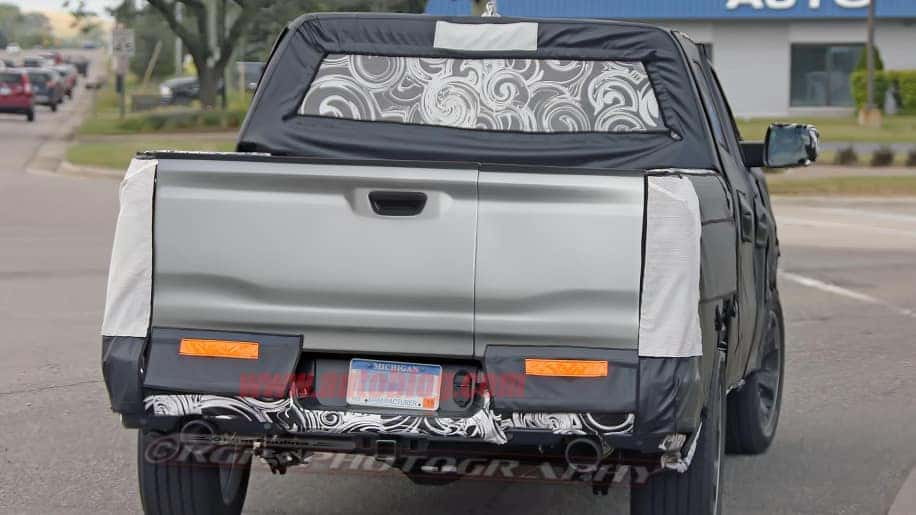 Spy photos have also shown that one of the current Ram's defining characteristics, the coil springs, will continue to be a feature on the new truck. These springs currently deliver superior ride comfort, and improve handling and stability, especially while towing. A similar suspension and coil springs will also likely be found on the upcoming and much anticipated Jeep Wrangler pickup.
The Mega Cab might be making a comeback
Some spy photos have shown what looks to be a longer crew cab available on the 2019 Ram 1500. Although an extra-long Mega Cab has been available for a while on the 2500 and 3500 heavy-duty trucks, the half-ton 1500 has been without that option in its current generation. It did, however, debut on the previous-generation 1500 and it added an immense amount of legroom for rear seat occupants. This one is not as clear as the other spy shots, but the mega cab is something very interesting that we would love to see!
Engine
The 5.7-liter Hemi V8, 3.6-liter V6 and Eight-speed Automatic we are used to in the current generation will definitely return in the 2019 Ram. The bigger question is whether or not there be an EcoDiesel version?
Better yet, we have recently seen FCA working on very powerful "hellcat" versions of existing models, like the new 707 horsepower Grand Cherokee Trackhawk. Will there be a 707-horsepower Hellram? We can only hope, because that sounds amazing!
Advanced Safety Tech Available
Since the current Ram generation dates back to 2009, it has gone without the sort of advanced safety tech that's become very widespread throughout the automotive industry in the years since. More spy photos would indicate that will change for 2019, however, as the new taillights seem to now have embedded blind-spot and rear cross-traffic detectors, very similar to those available on the Ford-F150.
______________________________________________________________________________________________________
If all of this doesn't get you excited, just wait. We have a feeling there will be a lot stuff we don't know about coming out with the reveal of the All-New 2019 Ram 1500 set for January 15th
Stay tuned to our Facebook and Twitter pages for all the news on the 2019 Ram 1500 release. If you are already as interested as we are, give us a call and we will work to get you into the first new Ram we can get our hands on! 330-753-4444 To check out current Ram 1500 models, go to our website – Fredmartinsuperstore.com
Take a look through the full Autoblog gallery of spy photos and renderings below: