2022 Wagoneer vs 2022 Grand Wagoneer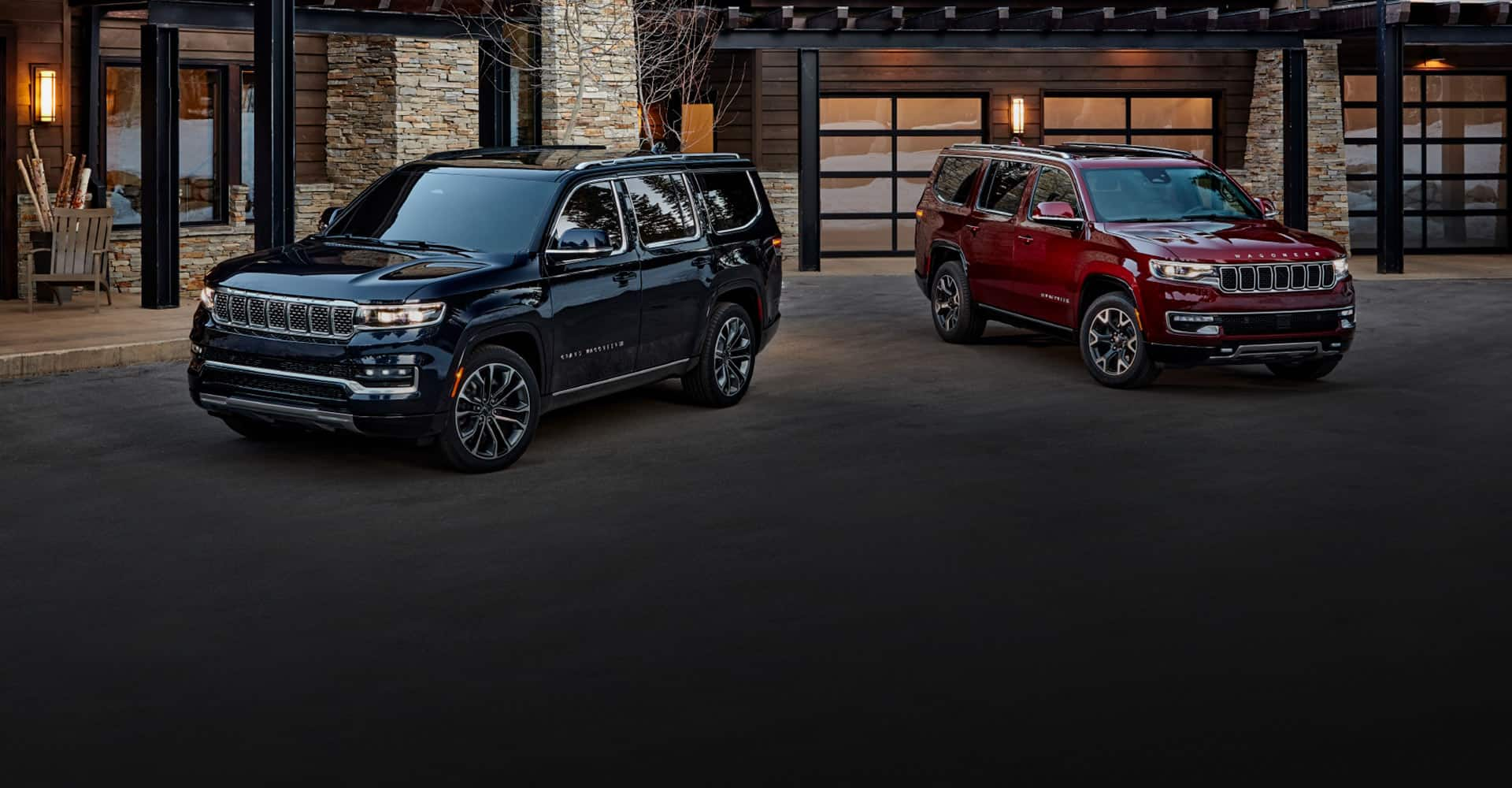 2022 Wagoneer vs. 2022 Grand Wagoneer
There are two new full-size luxury SUVs on the market, the Wagoneer and Grand Wagoneer. The Wagoneer is the less expensive version, and the Grand Wagoneer offers a few more luxurious. The distinctions between the two models are detailed here, including different powertrains, styling, interior layouts, and equipment.
How is the Grand Wagoneer different than the Wagoneer on the exterior?
The Wagoneer and Grand Wagoneer were built off the same body. However, there are a few trim differences that give the Grand Wagoneer a slightly more premium appearance. There is a lot more chrome on the Gand Wagoneer than the Wagoneer, a black roof, fancier-looking LED lighting accents, a different hood, and more striking fender flares. The Grand Wagoneer also offers a few exclusive colors, including Midnight Sky Blue, Rocky Mountain Green, and Ember Red. Both SUVs offer wheels ranging in size from 18 inches to 22 inches, depending on packages.
Do the Wagoneer and the Grand Wagoneer carry the same amount of passengers?
The Grand Wagoneer offers a more luxurious interior, as you'd expect. The dash offers a slightly different layout and offers nicer leather and wood trim compared to the Wagoneer. The Wagoneer comes standard as an eight-passenger with a second-row bench seat configuration that offers captain's chairs as an option. The Grand Wagoneer is the opposite and comes standard with the seven-passenger layout with the bench available as an option. The Grand Wagoneer offers four-zone climate control, 24-way power seats, a McIntosh audio system that offers more speakers than the system in the Wagoneer. There are more screens in the Grand Wagoneer than then Wagoneer, with one on the dash and for rear-seat passengers.
What engines are offered in the Wagoneer and Grand Wagoneer?
Both the Wagoneer and the Grand Wagoneer offer buyers V-8 engines and eight-speed automatic transmissions as standard equipment. The Wagoneer comes with a 5.7-liter V-8 with cylinder deactivation and a 48-volt hybrid assist. This powertrain delivers 392 horsepower and 404 pound-feet of torque and comes with a 10,000-pound towing capacity. The Gand Wagoneer comes equipped with a significantly more powerful 6.4-liter V-8 with 471 horsepower and 455 pound-feet of torque. It also features cylinder deactivation technology and comes standard with a four-wheel drive. As a result, the Grand Wagoneer's tow rating is slightly lower, at 9860 pounds.
Fred Martin CDJR is proud to be a certified Wagoneer dealer!
If you would like to learn more about either the Wagoneer or the Grand Wagoneer and live in the Akron, OH area, then Fred Martin CDJR is the place you need to visit. We have been in business since 1999, and we run our dealership the same way as we did back then, with value, quality, professionalism, and excellent customer service.