2019 Heavy Duty Version to be announced soon!

One might be tempted to think of Fiat Chrysler Automobile's new Ram 1500 full-size pickup truck as a sleeper, an also-ran in the perennial rivalry between General Motors Co.'s Chevy Silverado and Ford Motor Co.'s F-Series. That was then.  The latest version has taken off with a burst of positive reviews, including selection as the Detroit Free Press Truck of the Year, Motortrend's 2019 Truck of the Year Awards, and much many more.  Ranging in price from about $32,000 to about $57,000 for the fanciest trim, Ram comes equipped with a 48-volt mild hybrid technology to boost its fuel economy. About a quarter of the full-size pickup business is heavy-duty trucks, which are able to carry and tow larger loads and often preferred by those who are using them for more than personal transportation. Given the average Ram retail transaction price, as calculated by Kelley Blue Book, FCA's big pickup represented nearly $23 billion worth of business.
The latest Ram has been thoroughly redesigned, with a look that is quite different than the truck it replaces.  The previous version had pronounced front fenders, giving it a distinct and deliberate resemblance to the cab of a semitrailer rig.  The new one sheds the big-rig persona and projects a much more sophisticated mien. Also gone is the cross-hair grille, which recalled the crosshairs of a weapon sight. As FCA ramps up production of the new Ram, the automaker will continue to sell the previous model until the changeover is complete.

Last month, spy photographers operating in the vicinity of FCA's Chelsea, Michigan captured what appeared to be camouflaged versions of the three-quarter-ton heavy-duty (HD) versions of the new Ram.  Large, muscular and favored by farmers, workmen/women, ranchers and others needing to haul or tow heavy loads.
Buzz suggests FCA could possibly reveal the Ram HD next week at the North American International Auto Show in Detroit. If not there, then not too far from now.  Reports suggest that the new model will be available starting in March as a 2019 model, rather than a 2020 model, as had been believed earlier.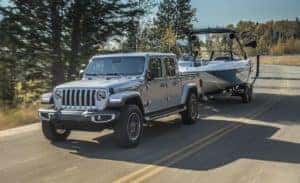 All in all, the next year promises to be a tussle in the pickup truck segment in the U.S., with several new arrivals including Jeep's midsize Gladiator from FCA.
Stay tuned to Fred Martin Superstore for when these vehicles will be popping in by following us on Facebook, Instagram or Twitter!