2017 Jeep® Wrangler at Fred Martin Superstore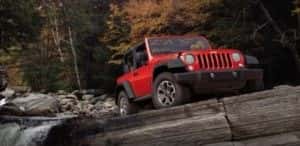 If you love nature and were born to scale mountains, explore canyons, and venture through the backwoods of our country, then look no further than the 2017 Jeep Wrangler at Fred Martin Superstore.  We have some of the best used SUVs and new cars for sale at jaw-dropping prices, but the 2017 Jeep Wrangler might just be the perfect vehicle to carry you to your next adventure. .
2017 Jeep Wrangler Details
Model details
Engine: 3.6-liter V6 engine
Power: 285 horsepower, 260 lb-ft torque
Transmission: Six-Speed Manual
MPG: 21 HWY
This year's Jeep Wrangler offers 14 trim levels, including Sport, Sahara, and Rubicon. The base model equips a 3.6-liter V6 engine that is rated at 285 horsepower and 260 lb-ft of torque. Even with this base engine, you will have more than enough power to traverse even the rockiest terrains.
Regardless of your taste, there is a Jeep Wrangler trim out there for you. Visit our Jeep dealership near Akron, and we will get down to the nitty gritty and customize your vehicle to satisfy your highest expectations!
Safety/Special Features:
-Antilock Brakes
-Front Airbags
-Blind Spot Monitoring
-Removable Side Doors
-Bluetooth® Connectivity
2017 Jeep Wrangler Safety and Special Features
The 2017 Jeep Wrangler ensures that you will be safe through any and all undiscovered valleys and roads.
Coming standard for all trims and models of the 2017 Jeep Wrangler are antilock brakes, traction and stability control, front airbags, and brake assist. A few optional safety features to consider are the side airbags, blind spot monitoring, and lane departure warning.
While the Jeep Wrangler is specifically built to take you anywhere through any kind of territory, it is also equipped with a few features to make the ride more pleasant, such as Bluetooth® connectivity with the ability to stream your music and podcasts, removable side doors for a more liberating drive, and even optional night vision to guide you through pitch-black forests.
Buying a 2017 Jeep Wrangler
Looking for a Jeep SUV for sale? Head to our dealership at 3195 Barber Road, and our superb Barberton, OH Jeep dealers will be here to assist you. Take a 2017 Jeep Wrangler for a test drive and find out why no other SUV can compare. We will walk you through the simple steps of purchasing a new car and help you select the best-suited financing option.